Over 60 years ago, Colonial Cartage initiated service as a local Direct Store Delivery (DSD) carrier in the north and middle Georgia markets. Today, Colonial Cartage is a full-service, asset-based carrier providing food-grade dry and
refrigerated LTL (less-than-truck)
, TL, and pool distribution services
to retailers and distributors in an extensive service area that encompasses 26 states throughout the Southeast, Southwest, Midwest, Upper Midwest, and the Great Plains states.


Our History
1948
Acme Bonded Warehouse opens its doors to handle and store Peter Paul Candy products, including the popular Mounds and Almond Joy chocolate bars.
1950
Acme places two delivery vans in service to provide local deliveries in the Atlanta market.
1970
Acme is renamed Atlanta Bonded Warehouse, and the small delivery fleet is incorporated as a separate entity, Colonial Cartage.

Over the course of the transportation deregulation era in the late 70s and early 80s, Colonial Cartage expands its delivery area and scope of services — including the addition of the company's first tractor-trailer in 1985.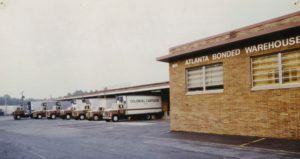 2000
Colonial has solidified itself as a 3PL regional carrier across the Southeast, servicing numerous food, food grade, and CPG customers, including most of the major confectionery manufacturers in the U.S.


Specialists In Refrigerated LTL Services
With a fleet of 70 tractors and 220 trailers, Colonial Cartage Corporation operates out of a single terminal in Kennesaw, Georgia, on the same campus and under the same ownership as Atlanta Bonded Warehouse.
Known for its attentive service and actionable solutions, Colonial Cartage is highly regarded for its unparalleled safety record. Our refrigerated LTL freight consolidation services have consistently demonstrated superior, on-time performances in an exceedingly difficult LTL operating market. Our freight management solutions ensure seamless transportation solutions for our customers' delivery and distribution needs.
In addition, Colonial Cartage offers regional plant support, cross-docking (truck-truck and container-truck), and inbound consolidation to outbound cross-dock.
What Sets Colonial Cartage Apart
A focus on providing core services.

Colonial specializes in temperature-controlled LTL transportation within a 26-state service area from one terminal in Kennesaw, GA. Colonial also handles plant shuttle services for raw materials and finished goods within an expanded metro-Atlanta area as well as handling selected TL lanes in and out of neighboring states.

Asset-based operations.

Colonial has the available assets and flexibility to meet our customers' unique shipping needs and has expanded our fleet by 20% in the last four years.

Client relationships founded on strategic fit and trust

. Colonial builds partnerships with businesses that share a similar vision and culture and where we know we can add value.

Family-owned with a flat organizational chart.

Colonial's customers have direct access to decision-makers who understand the need for a quick but thorough decision-making process.

A high-engagement and low-noise operational approach Colonial's detailed focus on day-to-day operations allows us to take the initiative to proactively solve problems.
Why Choose Colonial Cartage
The Colonial Cartage and Atlanta Bonded Warehouse teams offer integrated service packages encompassing 3PL warehousing, transportation, and co-packaging.


LTL Pool Handling: Benefit from access to one of the largest and most cost-effective pool programs for refrigerated LTL freight consolidation in the United States.





LTL Consolidation/Warehousing: Choose between ambient, temperature-controlled, or food-grade warehouse solutions – dedicated or public.





Plant Support: Effortlessly move raw materials and packaging, WIP, and finished goods to/from plants to their next stop in the supply chain.



Cross-Docking: Seamlessly ship products from their point of origin to their point of sale at reduced costs, with no need for double handling, inventory holding, or additional warehousing.

Contact Colonial Cartage today to learn more about our ambient and refrigerated LTL freight consolidation and distribution services.