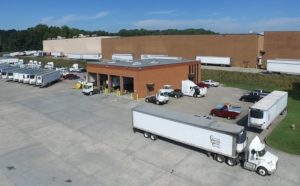 In order to maximize the utilization of both tractors and trailers, Colonial has invested in an on-site 4 bay maintenance facility which is operational 20 hours per day. The average tenure of our technicians is over 12 years with our maintenance team holding certifications from the TIA (Tire Industry Association)
and from the Refrigeration Service Engineers Society for Type 1 and Type 2 refrigerants.
Our service fleet includes 3 mobile trucks to service tractors and trailers both on our Kennesaw / Acworth campus and across the service area of our plant support businesses from metro Atlanta throughout north Georgia and Tennessee.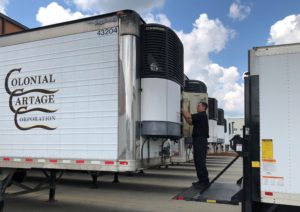 In addition to maintaining Colonial's fleet, our technicians are directly responsible for installing the devices and systems needed to monitor the safety and security of our drivers, and provide detailed location tracking for our tractors and trailers. This technology also tracks and reports vehicle speed and driver performance; reports on engine performance; monitors load temperatures, reefer fuel level, and battery voltage; and even diagnoses problems en route. Our technicians also maintain our electronic logging devices (ELD's) to monitor driver service hours, maintain Driver Vehicle Inspections, and provide maps, documents, and other reports on driving performance.
The Colonial fleet consists of the following:
Over 70 Peterbilt, Kenworth and International power units
Over 200 Refrigerated Trailers
Trailers tracked and controlled by Blue Tree
All equipment company owned
All trucks and trailers are high-quality, food-grade equipment
Investing in the latest safety technologies such as collision avoidance, lane departure, anti-roll over systems, all wheel disc brakes and adaptive cruise control
Truck tracking and ELDs by KT and Brickhouse Security
Member of EPA's SmartWay
Mobile service vehicles
Contact Colonial Cartage today to learn more about our fleet.