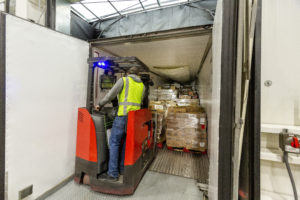 As retailers place smaller orders more frequently and the cost of non-compliance increases, Colonial Cartage's dependable, cost-effective LTL (less than truckload) pool program is the solution for your challenges in shipping refrigerated LTL orders.
In collaboration with third-party (3PL) logistics company Atlanta Bonded Warehouse, Colonial Cartage offers one of the largest pool programs for refrigerated LTL freight consolidation in the United States, covering 26 states in the Southeast, Southwest, Midwest, Upper Midwest, and Great Plains states with scheduled weekly refrigerated LTL carriers trucking deliveries to every food product retailer and distributor within this service area.
Benefits of Refrigerated LTL Carrier Shipments
By coordinating the shipment of refrigerated LTL orders, both originating from our warehouse network and our other pool customers, Colonial can build cost-effective reefer LTL delivery solutions that are dependable, cost-effective, and keep temperature-controlled products in the appropriate temperature range throughout the supply chain.
Unlike most other LTL carriers, Colonial Cartage does not trap freight and wait for a full truckload to build more profitable loads. If we have an order, it ships per our sailing schedule every week.
Colonial also offers a breakbulk service where specific orders are picked from products bulk shipped to our dock. This service allows for better utilization of inbound equipment and relieves the shipper from the responsibility of picking orders before it leaves their dock.
Colonial Cartage's Refrigerated LTL Fleet
Over 60 Peterbilt, Kenworth and International power units

Over 200 refrigerated trailers

All refrigerated trailers are tracked and controlled by Blue Tree

All freight carrier equipment is company-owned

All trucks and trailers are high-quality, food-grade equipment

Investing in the latest safety technologies such as collision avoidance, lane departure, anti-rollover systems, all-wheel disc brakes, and adaptive cruise control

Truck tracking and ELDs by KT and Brickhouse Security

Member of EPA's SmartWay

Front/Rear cameras by Lytx/Drivecam
Learn More About Our Refrigerated LTL Carrier Services
Contact Colonial Cartage today to learn more about our refrigerated LTL carriers, transportation services, and Atlanta Bonded Warehouse's full-service 3PL logistics services.